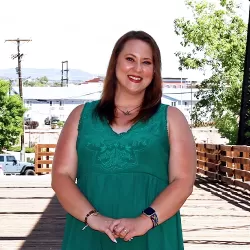 Hi, all!  My name is Tanya Hamilton, and I am a Licensed Professional Counselor. I began my counseling career in 2007, working with clients who were incarcerated in the state prison system.  That experience solidified a belief that people are more than a sum of their worst choices and are all deserving of respect and compassion.
I moved on to community mental health treatment in 2016, where I served clients who came in seeking help with a host of issues, including but not limited to substance use, depression, anxiety, and trauma. 
I began to understand through the work in both corrections and community settings, how impacted many of my clients had been by childhood experiences, neglect, trauma, or abuse. 
In 2017, I shifted my focus to working with children and adolescents, first as a therapist and then as a clinical supervisor at a residential treatment center.  I continued to focus on trauma-informed treatment practices and understanding the relationship between trauma and mental health. 
Over the last year, I have continued to serve the children in our community as a middle school counselor, where I supported our students as we navigated the challenges of a pandemic together.  
Creating Agape Counseling
All of these experiences lead me to creating Agape, a place where we can work together toward your positive change, outside of some of the limitations of a school, residential, or community mental health setting.
Cognitive Behavioral Therapy is the cornerstone of the work I do.  Basically, if we can think better, we can feel better, and then we can do better.  I also utilize some techniques and interventions from Dialectical Behavior Therapy and Motivational Interviewing. I strive to build a supportive and authentic relationship with my clients. I believe that you are the expert in your own life, and my role is to facilitate change and help you become the best version of yourself. 
I understand that beginning therapy is a big step, and I want to make that process as comfortable as possible.  You likely have some difficult things to talk about.  That doesn't mean that therapy has to be "heavy" every session.  I believe in being able to laugh, relax, and be honest with each other. 
I truly feel my nearly 15 years of experience, along with the huge range of patients and many different areas I have worked in, are what sets me apart. When treating you, I can draw from so many different areas of experience to come up with a plan that works best for you. 
I look forward to working with you and appreciate your time and consideration.