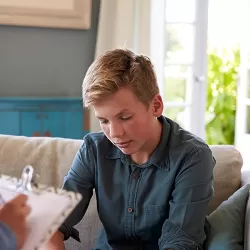 Is your child, adolescent or young adult struggling with an issue or past trauma that you think could be better handled with the help of a professional? At Agape Counseling Service, Licensed Professional Counselor Tanya Hamilton has experience treating a wide range of issues for many years. She sees those struggling with:
Anxiety
Behavioral Issues (children and adolescents)
Depression
Emotion Regulation
Infidelity
Interpersonal Skills
Personality Disorders
Self-Harm
Self-Esteem
Sexually Deviant Behaviors
Suicidality
Trauma
Relationship Issues
Women's Issues
Cognitive Behavioral Therapy (CBT)
Cognitive Behavioral Therapy (CBT) is evidence based. This means it has been clinically proven to work.  In this type of therapy, the focus is on unhealthy patterns of thinking that contribute to unhealthy ways of behaving. 
With help from the therapist, the client begins to identify these unhelpful patterns of thoughts and behaviors with a goal of changing them to more healthy patterns through practice.  Once the client is able to do this consistently, they will see improved outcomes in their lives and begin to feel better mentally and emotionally.
CBT is especially effective in treating patients with depression, anxiety disorders, marital problems, drug and alcohol abuse problems, eating disorders and other mental illnesses. 
Dialectical Behavior Therapy (DBT)
Dialectical Behavior Therapy (DBT) is an evidence - based treatment program.  This means it has been clinically proven to work.  Developed by Dr. Marsha Linehan, it was originally developed to treat Borderline Personality Disorder but has been found to help individuals with a wide variety of mental health issues who struggle with regulating their emotions. 
This therapy uses some of the concepts from CBT and emphasizes the importance of being mindful and accepting in one's life and circumstances.  Practicing and learning new skills is a central component in DBT, so clients should expect to be given worksheets and handouts to guide them outside of their scheduled therapy sessions.
Solution - Focused Brief Therapy
In Solution - Focused Brief Therapy, the focus is on goal - setting, future - planning, or problem solving.  Exploration of the past is not a component of SFBT.  This method is often used when a client has a limited number of sessions, for example with an Employee Assistance Program (EAP) or when they have a very specific problem they need help to work through and solve.