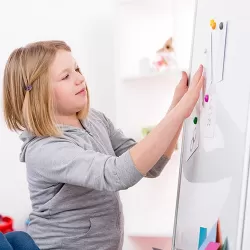 At Agape Counseling Service, we understand that a talk therapy session may not be the best fit for younger children who have a shorter attention span and often find it difficult to discuss traumatic or difficult events or emotions.  Therapist Tanya Hamilton provides play therapy and other child-friendly counseling techniques that can help your child and family understand and work through difficult issues. 
Through play therapy sessions, your child can express their emotions and experiences in ways that make sense to them. 
When children express their emotions, we may find it difficult to understand them.  They often don't have the vocabulary to express their emotions and some behaviors may appear to mean something to the observer but mean something different for the child.  Play is the language that children use to express themselves. 
We learn about children by giving them the space to play freely and can use the information they give us to help them process feelings, organize thoughts and tell us about their worlds.
Helping Your Child Find Comfort
Because play is the children's language, it can be their comfort zone and help eliminate fear. Play therapy looks like regular playtime to a child and that's what makes it effective. It is the best way for therapists to observe and gain insights into the problems that a child may be dealing with.
It puts a child in a position where they can be themselves. They are more comfortable talking about what they usually wouldn't, and that allows therapists and parents to find ways to help them cope.
Children with unresolved mental or emotional issues may grow up to have difficulties that others do not. Instead of focusing on developing skills, they spend time suppressing emotions. This can cause them to appear socially awkward, impulsive, and uncontrollable, but the heart of those behaviors is about anxiety, depression, or their attachment to others.
Play therapy is one of the easiest ways for children to learn more about their emotions. It is a great way to help your child deal with what they're feeling and at the same time, make the most out of the skills they're developing. Play therapy comes in many forms and its effectiveness depends on the child involved.
Each child is unique, as are their emotions and experiences they may go through such as behavioral problems, grief, divorce, bullying, abuse, trauma, anxiety, depression, ADHD, learning and physical disabilities, intellectual disabilities, autism, social deficits, conduct disorders, and other problems. Some of the different kinds of play therapy available for us to use are:
Bibliotherapy (storytelling) using literature to explore new concepts, emotions, and skills.
Sand Tray therapy utilizes sand trays and a variety of objects to help the child create scenes that hold specific meanings for them.
Cognitive-behavioral play therapy is playing with your child to aid them in understanding how to think and act.
Imaginary play sparks a child's imagination using toys such as puppets, dolls, or action figures.
While Play Therapy is intended for children ages 3-12 who are struggling with their mental health, there are elements that can be used with any age group. Parents and guardians learn more about their children and their emotions. It helps them create an environment their children will be comfortable in so that they can express themselves more openly.
Top 5 Benefits of Engaging in Play Therapy
It teaches accountability
Play therapy teaches children to be more responsible for their behavior. It also encourages the development of new and healthier ways of expressing their emotions.


It encourages creative and critical thinking
Playtime triggers a child's creativity and critical thinking. Play therapy makes them feel more comfortable doing this often.


It helps develop respect and acceptance
Play therapy provides comfort to children who are struggling with their emotions. Being in a safe environment will make them feel valuable, respected, and accepted.


It builds a strong foundation of empathy
Being comfortable in play therapy will help children become more empathetic too. Knowing that people understand them will show them that they need to understand others, too.


It Reduces social anxiety
Children who struggle with expressing their emotions develop social anxiety. Play therapy removes the fear and anxiety and allows them to develop social skills that they will need as adults. If you feel like your child is struggling to express themselves, play therapy may be a great way to help them. 
Start the process by reaching out to Agape Counseling Service who can do an assessment to identify what kind of play therapy you need. Play therapy is one way you can help your child and yourself cope with unusual amounts of stress, trauma, and anxiety.